In what was expected to be a quiet holiday week, Trump managed to generate a fair amount of controversy and concern. Along with his regime and some in the Republican Party, Trump continued to attack American institutions and Mueller. A NYT interview revealed Trump still does not understand, or choose to accept, the boundaries of his power in our democracy — and he continues to lie, irreverently. The issue of Trump's mental health also resurfaced this week.
As Republicans and Trump's White House prepare for the wrath of the American people in 2018 — the Resistance and even their own shrinking base — Trump seems cocooned from news and real information. The Mueller probe continues in earnest and is expanding its focus, just as Trump's lawyer continue to assure him the investigation will soon conclude — setting the two on a collision course heading into 2018.
On Saturday, WAPO reported FBI deputy director Andrew McCabe plans to retire when he becomes eligible for his full pension in early March. McCabe has been a target of Republicans for more than a year.
Shortly after, Trump attacked McCabe, tweeting how can he "along with leakin' James Comey, of the Phony Hillary Clinton investigation…be given $700,000 for wife's campaign by Clinton Puppets during investigation?"
Trump's claims on both the source of the donation and it being made while McCabe was involved in the Clinton email investigation are false. Trump also tweeted, "McCabe is racing the clock to retire with full benefits."
Following his Twitter attacks on McCabe, Trump next attacked the FBI's top lawyer, who in Week 58 is being reassigned by FBI director Christopher Wray: "Wow, "FBI lawyer James Baker reassigned," according to @FoxNews."
On Christmas Eve, Trump continued his attacks on McCabe, tweeting in addition to his other false claim about donations to McCabe's wife, McCabe used "his FBI Official Email Account to promote her campaign."
On Tuesday, Trump attacked the FBI and Clinton, this time related to the "bogus" and "pile of garbage" dossier, tweeting, "Clinton Campaign, DNC funded Dossier. FBI CANNOT (after all of this time) VERIFY CLAIMS."
On Tuesday, Republican Rep. Francis Rooney called for a "purge" of the FBI, telling MSNBC the FBI leadership should get rid of "deep state" figures at work in the agency.
A 17 year-old was charged with murdering his girlfriend's parents in Reston, VA. Her parents had reported the boyfriend's neo-Nazi texts to the children's school, and pushed their daughter to break-up with him.
Two months before the murder, a swastika roughly 40 feet across was mowed into the grass of a community field, allegedly by the same teen. Residents now regret telling the parents rather than the police.
A WH intern posing in a group photo with Trump in November flashed a white power sign while the other interns gave a thumbs up. The intern, Jack Breuer, has worked for Stephen Miller since September.
At the request of the nursing home industry, the Trump regime scaled back the use of fines against nursing homes that harm residents or place them in grave risk of injury — such as neglect, mistreatment, and bedsores.
Slate reported under the new temporary leadership of Mick Mulvaney, the Consumer Financial Protection Bureau's mission statement now lists as its first order of business hunting down "outdated, unnecessary, or unduly burdensome regulations."
The Tennessean reported on a new policy which expressly prohibits "hand-carried signs and signs on hand sticks" at the new home of the state legislature, calling them a safety hazard. Guns, however, are allowed.
WAPO reported on other efforts within the Trump regime to control the usage of words: the Office of Juvenile Justice and Delinquency Prevention issued a "language guidance" document to employees and contractors.
The one-page document suggests changes such as using "all youth" instead of "underserved youth," and referring to young people who commit crimes as "offenders" rather than "system-involved or justice-involved youths."
WSJ reported many of the thousands of comments criticizing the Obama-era Labor Department "fiduciary rule," which requires investment advisers handling retirement accounts to act in the best interest of clients, are fake.
On Wednesday, the remaining 16 members of the Presidential Advisory Council on HIV/AIDS were notified via a FedExed letter that they were fired. Six other members resigned in Week 32 in a public letter, saying Trump doesn't care about HIV/AIDS or have a strategy.
On Christmas Eve, Trump also took credit that "People are proud to be saying Merry Christmas again," tweeting he "led the charge against the assault of our cherished and beautiful phrase."
A $1 million propaganda-like TV ad campaign featuring 'everyday Americans' thanking Trump for many things including "for letting us say, 'merry Christmas' again," started airing Christmas Day.
Trump retweeted an image depicting the letters 'CNN' squashed in a blood-like splatter beneath his shoe, originally tweeted by oregon4TRUMP as a reply to one of his tweets boasting about his first-year achievements.
Numerous journalists criticized Trump's retweet of the CNN imagery. This is the third time Trump has tweeted violent imagery against CNN, including a train hitting the CNN logo and Trump wrestling down the logo.
NYT reported that ahead of the sale of 21st Century Fox to the Walt Disney Company, Trump called Rupert Murdoch to get his assurance that Fox News Channel would not be affected.
On Friday, Trump attacked Amazon in a tweet, asking "Why is the United States Post Office, which is losing many billions of dollars a year, while charging Amazon and others so little to deliver their packages, making Amazon richer and the Post Office dumber and poorer? Should be charging MUCH MORE!" Amazon's shares traded down on the tweet.
A senior editor at conservative National Review noted that the owner of Amazon owns WAPO, but if Jeff Bezos "owned a Trump-friendly outlet, would the president be tweeting this way? Is this really the way a president ought to act?"
As repeatedly noted in The Weekly List, Trump has attacked other public companies on Twitter to try to influence their behavior including Boeing and Lockheed, Ford and Fiat, and AT&T and Time Warner.
AP reported over three months since Hurricane Maria, just 55% or 1.5 million Puerto Ricans have electricity. The US Army Corps of Engineers has said it will take until May for the entire island to have power.
ABC reported on the lack of supplies to repair electricity: PREPA needs 52,480 poles, had 6,228 on December 15 with another 8,500 to arrive by year-end. PREPA needs 17 million conductors but has just 347,000.
Vox reported as we approach 100 days since Maria, hundreds of thousands have fled the island; FEMA in its longest activation in history is "tapped out;" the death count is unknown; and Trump as a leader has failed.
Guardian reported that in November, the FBI and US Treasury asked officials in Cyprus for financial information about FBME Bank, a Russian-linked defunct bank, accused by the US government of money laundering.
The request for information from FBME Bank may be tied to Mueller's investigation of the Trump campaign, specifically Paul Manafort. Mueller's team is continuing to examine money flows from Cyprus.
Bloomberg reported FBME Bank is subject of an investigation by the US attorney's office in New York for possible money laundering, specifically the flow of illegal Russian funds into the New York real estate market.
GQ reported that in June the Commercial Bank of Dubai asked to subpoena Ivanka's now-defunct fine jewelry line in the Southern District of NY, claiming its diamonds were used to hide money owed to the bank.
The bank alleges the Al-Saris family borrowed more than $100 million from the bank, defaulted on the loan, then hid the money by buying diamonds, including some from Ivanka's jewelry line.
Although permission was granted for the subpoena in August, the bank has yet to move forward. In recent months, Trump and Kushner have sided with the Saudis and Emiratis, owner of the bank, on the blockade of Qatar.
Russian election officials barred opposition leader Alexei Navalny from running for president in the upcoming election. Navalny called for a boycott in an effort to lower turnout and show a lack of support of Putin.
On Monday, WSJ reported Jay Sekulow reasserted that the parts of the Mueller investigation having to do with Trump will end soon, saying Trump's legal team is "looking forward to an expeditious wrapping up."
WAPO reported on Russia's disinformation campaign which sought to influence our election. Miscalculations, inertia, and an underfunded bureaucracy to counter disinformation left the US vulnerable.
Russia hacked the State Department and WH in 2014, before hacking the DNC and others. A US government delegation flew to NATO headquarters before Trump took office to warn our allies, who said they already knew.
WAPO cited a FBI counterintelligence operation, "Northern Night," which followed Kremlin-tied freelance journalists, who, using pseudonyms, wrote articles to undermine US democratic institutions during the 2016 election.
With the 2018 election approaching, Trump and the WH have played down Russian interference, which is likely to continue, instead saying US intelligence is doing the bidding of the Democrats to undermine Trump.
BuzzFeed reported the Senate Intelligence Committee plans to wrap up its Trump-Russia probe in the early part of 2018. Chairs Richard Burr and Mark Warner face public pressure to conclude the investigation, including for Burr from Trump.
Warner credits the committee with exposing social media's role in Russian interference, and having concluded that "Russia massively interfered" in the election and "attempted to tap into" the electoral systems of 21 states.
A witness list for January has not been provided, and Burr said it is unlikely there will be more public hearings. The hope is that the committee will be able to release a bipartisan report. The House committee was plagued by partisan issues.
A WAPO op-ed noted that Russia hasn't stopped its cyberattacks on the US. Russian trolls still play an active role in attacking the FBI, our media, and Republicans who oppose Trump, as well as spreading conspiracy theories.
Michael Morell, former CIA director, and Michael Rogers, former chair of the House Intelligence Committee, co-authors of the op-ed, also noted Russia continues to actively work to sow doubt about Mueller.
BuzzFeed reported that according to documents and two whistleblowers, the fingerprint-analysis software used by the FBI and more than 18K US law enforcement agencies contains code created by a Russian firm, Papillon.
The code was inserted by a French company, a subsidiary of Safran, which hid the information from the FBI. Papillon has close ties to the Kremlin, and its products are widely used by Russian agencies and the FSB.
Yahoo reported the Mueller probe has outgrown Trump's dismissive "witch hunt" label, and as is heading to a crossroads as Trump's legal team presses Mueller to wind things down while Mueller's team is pursuing new leads.
In the last few weeks, Mueller's team has started questioning Republican National Committee staffers about the party's digital operation that worked with the Trump campaign to target voters in key swing states.
Mueller's team is investigation whether the Trump campaign worked with Russian trolls and bots to influence the election. Kushner, head of digital operations for the campaign, is seeking a crisis management firm.
Axios confirmed one recent contact made by Mueller's team to a former Republican National Committee staffer. DC insiders believe if there was Trump-Russia collusion, it likely occurred through Trump's data operation.
WAPO reported federal prosecutors in Brooklyn have requested records on the $285 million loan that Deutsche Bank made to Kushner's family real estate company one month before the election. Kushner Cos. is cooperating.
The $285 million loan refinanced a 2015 purchase Kushner made from Putin crony Lev Leviev of four floors at the New York Times headquarters, and provided Kushner $74 million more than he had paid for the transaction.
Washington Examiner reported Rep. Devin Nunes issued a subpoena to David Kramer, a senior fellow at the McCain Institute for International Leadership, who traveled to traveled to London to pick up a copy of the dossier for Sen. John McCain.
On Thursday, Nunes wrote a letter to Rod Rosenstein accusing the DOJ of ignoring his subpoenas sent in August for information on the dossier, and saying the response is "disingenuous at best."
WAPO reported Trump's legal team is preparing a strategy to portray Michael Flynn as a liar seeking to protect himself if he accuses Trump or his senior aides of wrongdoing in the Mueller probe. Lawyers say this is standard practice.
Trump's lawyers cite Flynn signing the plea deal after admitting he had lied to the FBI. The approach would break from what Trump has been publicly saying, often complimenting and defending Flynn.
NYT reported the FBI's Russia inquiry began because of a May 2016 conversation between George Papadopoulos and Australia's top diplomat in Britain at a London bar. Papadopoulos bragged Russia had dirt on Hillary.
In July 2016, when hacked Democratic emails started appearing online, Australian officials passed information about the Papadopoulos conversation to their American counterparts.
Shortly after, the FBI opened an investigation into Russian interference in the election, and whether the Trump campaign conspired. The Trump regime has been alleging the investigation began because of the dossier.
Although the Trump regime dismissed him as a "coffee boy," Papadopoulos edited Trump's first major foreign policy speech in April 2016, and told a Russian contact the speech should be taken as "the signal to meet."
On Tuesday, Trump again claimed Obamacare is repealed, tweeting, "our Tax Cut Bill […] essentially Repeals (over time) ObamaCare." According to an Economist/YouGov poll almost half of Republicans believe this false claim.
NYT reported on a surge in Democrats running for Congress in 2018: so far, Democrats have filed to run in all but 20 districts held by Republicans, while Republicans have yet to field a candidate in 80 districts.
Following UN pushback on Trump's Jerusalem decision, ambassador Nikki Haley announced the US will cut $285 million from its 2018–2019 UN budget, vowing to "no longer let the generosity of the American people be taken advantage of."
WSJ reported Trump has spent nearly one-third of his first year in office at Trump-owned properties, including 40 days at his golf course in Bedminster, 40 days at Mar-a-Lago, and various others.
WSJ noted Trump had said he would transfer profits earned from foreign government at his properties to the US Treasury this year, but he has yet to provide tracking information or disclose how much will be transferred.
Daily Beast reported although many Trump properties are losing business, the Trump Hotel DC is thriving. Trump and his advisers visit frequently, and it has become a place to be seen for both Republicans and tourists.
Although Trump said he not be involved with the family business, an email from the hotel director of revenue shows Trump is very involved still, asking "about banquet revenues and demographics" at a recent meeting.
CBS News reported Trump told friends at a dinner Friday night at Mar-a-Lago, "You all just got a lot richer," referencing the Republican tax bill he had just signed into law hours earlier.
WSJ reported Ivanka is a "walking billboard" for her brands. The Journal analyzed what Ivanka wore in her social media posts about official appearances, and found 68% include her dresses, shoes, bags, or jewelry.
LA Times reported that while Trump claims he has boosted US influence in his first year, in fact, the opposite is true: he has reduced or altered the country's influence in ways which are less constructive.
Areas of lost influence include: China now leading on climate change, Russia has taken over Syrian peace talks, Germany and France effectively the NATO leaders, and leading talks in the Israeli-Palestinian conflict.
Breaking a 15 year tradition for Defense Secretaries, Jim Mattis did not visit US troops in a war zone during December to thank service members in combat and separated from their families.
AP reported Trump is the first US leader since Calvin Coolidge in the 1920s to end his first year in office without hosting a single state dinner for foreign counterparts. Close interest will be paid to the first invitation.
Politico reported on the lack of transparency surrounding Trump's Cabinet. Eight of the 17 Cabinet heads do not release information on their planned schedules or travels, and four provide only sporadic details.
In addition, at least six won't release appointment calendars, or who their leaders had met with, what they discussed and where they traveled — a potential violation of the Freedom of Information Act.
Information released reveals cabinet members meeting with businesses, and their lobbyists, that they are meant to regulate. There is also concern about hidden policy agendas, and taxpayer reimbursement for personal travel.
On Thursday, Trump mocked climate change, tweeting "it could be the COLDEST New Year's Eve on record," and "we could use a little bit of that good old Global Warming."
Weather Channel explained that Trump had "confused" the difference between weather and climate, the latter being "how the atmosphere 'behaves' over relatively long periods of time."
Ten more US cities, for a total of 67, have signed on to the Chicago Climate Charter, which requires participating cities to abide by many of the climate guidelines set by the Paris climate accord.
Sen. Orrin Hatch tweeted he was "Grateful for this great Christmas honor" from the Salt Lake Tribune before reading the scathing editorial, calling Hatch out for his power grab and for his complicity with Trump on shrinking two Utah national monuments in Week 56.
A Marist poll found "being a better person" as the top New Year's resolution for 2018 for the second year in a row. In the previous decade, "losing weight" topped the list 80% of the time.
The Library of Congress announced that starting January 1, 2018, it will acquire tweets on a selective basis only. For the first 12 years (2006–2017) of Twitter's existence, every tweet was archived.
On Tuesday, the FBI Agents Association announced it received $140K in donations amid the ongoing criticism of the agency led by Trump. Friends of the FBI agents attacked had led the call for donations on Twitter.
On Monday, Christmas Day, Trump tweeted he would get "back to work in order to make America Great Again," starting tomorrow. Instead, Trump spent the next five days at Trump branded golf courses.
On Thursday, CNN reported when their cameraman tried to get footage of Trump golfing at the Trump International Golf Club in West Palm Beach, a large white truck pulled up and obscured journalists' views.
On Wednesday, at a West Palm Beach fire station, Trump bragged he had "signed more legislation than anybody. We broke the record of Harry Truman." Politifact rated this claim as "false," finding Trump ranks last among the past 10 US leaders who began their term on the regular cycle.
A new poll of New Hampshire voters by American Research Group showed Trump's approval has fallen to 27%, with 63% disapproval.
On Wednesday, Roy Moore filed a complaint alleging voter fraud in Alabama's special election and urging a delay in certifying the results. The judge denied Moore's complaint.
On Thursday, Alabama election officials certified Doug Jones as the winner of the special Senate election. Nonetheless, Moore stood by his claims including that the election was fraudulent, and refused to concede.
On Thursday, Trump attacked Vanity Fair on Twitter for their apology for a Hillary video, while mocking Anna Wintour saying she is "beside herself in grief & begging for forgiveness!" Wintour is EIC of Vogue, not Vanity Fair.
An op-ed titled, "2017 Was The Year That The Internet Destroyed Our Shared Reality," described how Trump, pro-Trump media and conspiratorial hyper-partisans have fomented two versions of reality.
Newsweek reported the Interior Department mistakenly used $39K in wildfire preparedness funds for an unrelated helicopter trip for Secretary Ryan Zinke last summer. Zinke faces continuing criticism and scrutiny of this travel expenses.
WAPO reported while Trump is in Mar-a-Lago, his WH aides are looking to revamp the West Wing operations ahead of what is expected to be a difficult year. Proposed changes are being overseen by chief of staff John Kelly.
Aides and friends have told Trump if the GOP loses the House in 2018, not only would Democrats likely begin impeachment hearings, but his legislative agenda would be imperiled and his 2020 re-election in trouble.
On Thursday, Trump gave a 30-minute interview to a NYT reporter. The reporter was criticized for letting Trump ramble on without questioning false assertions, and issued an explanation on the impromptu interview.
The alarming interview is full of false statements such as Trump saying, "Virtually every Democrat has said there is no collusion." Not a single congressional Democrat has said there was no collusion.
One of Trump's most alarming statements was, "I have absolute right to do what I want to do with the Justice Department," which indicates Trump's lack of understanding of how things work, and his authoritarian leanings.
Trump asserted a detailed knowledge on legislation, which it is widely believed he hasn't read: "I know the details of taxes better than anybody. Better than the greatest C.P.A." He made same claim on health care.
Another alarming statement came amid Trump's repeated claims throughout the interview that there was no collusion with Russia, when he added "and even if there was, it's not a crime. But there's no collusion."
Vox founder and editor-at-large Ezra Klein described the interview as "incoherent, authoritarian, uninformed" and "a scary read." Klein also asserted, "The president of the United States is not well."
The Toronto Star reported Trump made a total of 25 false claims in his NYT interview, nearly one per minute.
WAPO reported Trump's interview with the NYT has caused consternation with WH staff. No aide or adviser was there, or knew about the interview in advance. One frustrated aid called the interview "embarrassing."
New Republic noted white nationalists entered 2017 on a high note with Trump taking office, but the racist right couldn't find common goals, and ended the year without accomplishments and in disarray.
"The List" — weeks 1–52 of The Weekly List are coming out as a book! You can pre-order your copy by clicking here.
Copyright Amy Siskind, December 30, 2017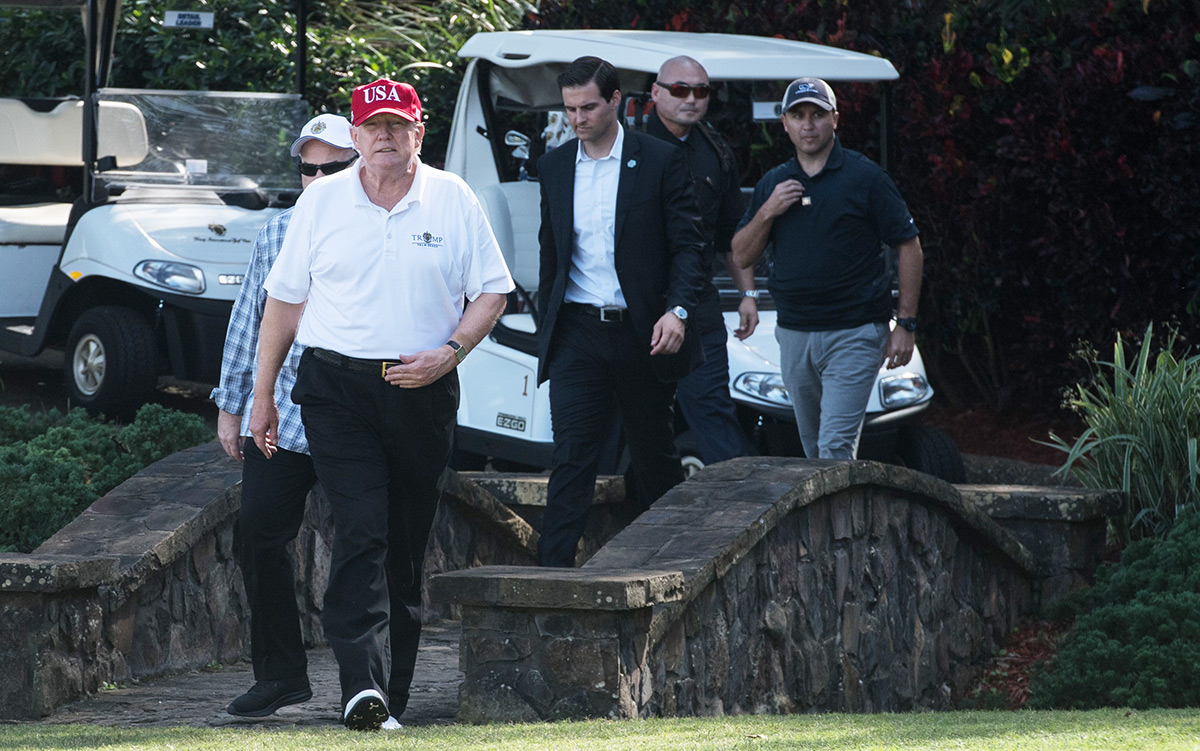 Trump walks onto the green at the Trump International Golf Course in Mar-a-Lago, Florida. After saying he would get "back to work" after Christmas Day, Trump spent the next five days golfing. Saturday marked his 89th day of golf since taking office.