This week Defense Secretary Jim Mattis, thought to be one of the sane and sober voices remaining in the regime, resigned in a public letter rebuking Trump's treatment of allies and deference to authoritarians. Trump's abrupt withdrawal of U.S. troops from Syria was the last straw for Mattis, a decision reportedly made on a call with Turkish President Recep Tayyip Erdogan the week before. Mattis' departure elicited bipartisan concern, and placed the country on edge.
This week Trump's beloved stock market continued to crater, as the markets entered a correction period with Dow Jones Industrial Average's worst weekly performance in 10 years, and on track for the worst December since the Great Depression. By the week's end, Trump was privately agitating about firing Federal Reserve Chair Jerome Powell, in what would be an unprecedented act.
In the final week Congress was in session ahead of the holidays, Trump abruptly changed his position on funding for his wall, bowing to pressure from the likes of commentator Ann Coulter and radio host Rush Limbaugh, precipitating a government shutdown Friday at midnight — the third this year, even as Republicans control the House, Senate, and White House.
Investigations under the Mueller probe and other jurisdictions progressed this week, as every part of Trump's life is now under investigation. In a remarkable hearing, Judge Emmet Sullivan delayed sentencing for Michael Flynn, after castigating him for his role in working against U.S. interests. A pair of shocking reports made public by the Senate Intelligence Committee detailed Russia's extensive interfering in the 2016 election in support of Trump, and another report by the Director of National Intelligence Dan Coats indicated Russia was at it again in the 2018 midterms.
Merriam-Webster chose "justice" as the 2018 word of the year, noting the word consistently bubbled into the top lookups on its website for uses such as obstruction of justice, social justice, and the Justice Department.
A survey of more than 110 CEOs done by the Yale School of Management found 75% often had to apologize to international partners for Trump's "embarrassing diplomatic messages" when traveling abroad for business.
Also, 87% of CEOs agreed Trump's negotiating style had cost the country the trust of allies. A senior associate dean added that "divisiveness of pitting people against each other…has worn the business community down."
WAPO reported in Trump's first 700 days in office, he has made 7,546 false or misleading claims. In the first eight months, he averaged five per day — more recently, in October he averaged 39 per day and in November 29 per day.
On Sunday, CNN noted Trump entities are the focus of at least six investigations, including the Trump campaign, transition team, inaugural committee, administration, foundation, and organization.
On Sunday, Trump attacked SNL over the depiction of him in a sketch, tweeting "A REAL scandal is the one sided coverage, hour by hour, of networks like NBC & Democrat spin machines like Saturday Night Live."
Trump also tweeted, "Should be tested in courts, can't be legal? Only defame & belittle! Collusion?" Trump drew rebukes that he was again threatening the Constitution's First Amendment protection.
On Sunday, Trump also invoked mob slang tweeting, "Michael Cohen only became a 'Rat'" after the FBI did something "absolutely unthinkable & unheard of" when "they BROKE INTO AN ATTORNEY'S OFFICE!"
Trump also quoted WSJ's Daniel Henninger, tweeting, "It looks here as though General Flynn's defenses are incidental to something larger…to figure out if it can find a path to Donald Trump."
Trump also tweeted about "The Russian Witch Hunt Hoax, started as the "insurance policy" long before I even got elected," adding, "they are Entrapping people." This is false: the Mueller probe started in May 2017.
A NBC-WSJ poll found 62% of Americans believe Trump has not been honest and trustworthy about the Mueller probe, up from 56% in August. Just 34% believe he is being honest and trustworthy.
A USA TODAY/Suffolk University Poll found 59% of Americans have "little or no trust" in Trump's denial that there was collusion in his campaign with Russia, while just 24% have "a lot of trust."
On Monday, Reuters reported Maria Meza and her children, the mother photographed running with her daughters from tear gas at the U.S.-Mexico border in Week 107, began seeking U.S. asylum.
On Monday, Reps. Nanette Barragán and Jimmy Gomez from the Congressional Hispanic Caucus live-tweeted about migrants' attempts to apply for asylum, citing long wait times and migrants being ignored.
On Tuesday, a local bank in the suburbs of Cleveland called 911 when Paul McCowns, a Black man, tried to cash his first paycheck. McCowns was asked for two forms of ID, which he provided.
On Wednesday, a New Jersey high school wrestler was forced by referee Alan Maloney to cut off his dreadlocks minutes before his match or forfeit the competition. The wrestler, who is a Black teen, had to cover his hair.
The state's Interscholastic Athletic Association said in a statement they are recommending Maloney, who is white, not be assigned to referee any more matches until the matter has been thoroughly reviewed.
On Thursday, the Philadelphia Inquirer reported four teen girls dropped letters at non-white homes praising Trump, Pence, and saying "there is now a law against filthy nutheads like you," along with a death threat.
High school students believe two of the teens who dropped off the letters are the same two youths posing in Ku Klux Klan hoods that circulated on Snapchat on Tuesday, and all are students at Strath Haven High School, in an affluent part of Delaware County.
Detroit Free Press reported a noose was found in a boys' locker room at Athens High School in Troy on Thursday. After an investigation, the student responsible was found and suspended. The principal called it a "cry for help."
On Wednesday, a federal judge rejected the Trump regime's request to dismiss a lawsuit challenging its plan to add a question regarding citizenship to the 2020 census, paving the way for a trial in January.
Financial Times named George Soros the "Person of the Year" for 2018. The editorial board explained the pick "is usually a reflection of their achievements…his selection is also about the values he represents."
On Thursday, AP reported on the scope of the migrant children program under Trump, decades after the U.S. had stopped institutionalizing kids because large, crowded orphanages were causing lasting trauma.
According to government data, of the 14,300 migrant children in government care, about 5,400 are sleeping in shelters with more than 1,000 other children, and 9,800 are in facilities with 100-plus kids.
When Trump took office, the same federal program had 2,720 migrant children in its care, and most were in shelters with a few dozen kids or in foster programs.
NPR reported nearly 15,000 migrant children are now held in government custody. According to the Department of Health and Human Services, the national network of more than 100 shelters are 92% full.
The largest migrant youth shelter are the tent cities in Tornillo, Texas, set up in a patch of desert. The heated tents can hold up to 3,800, but will require hiring more staff.
On Thursday, Homeland Security Secretary Kirstjen Nielsen testified before the House Judiciary Committee over the death of Jakelin Caal Maquin, a 7-year-old Guatemalan girl.
Rep. Hank Johnson asked Nielsen about the girl's death, and how many other children had died in the custody of DHS. Nielsen responded, "I'll get back to you on that figure. I'm not going to guess under oath."
Nielsen told the committee under the Trump regime's new "Catch and Return" policy, some migrants will return to Mexico while their immigration proceedings go forward rather than remain in the U.S.
Nielsen said the new policy will apply to both asylum seekers who entered the U.S. legally at border crossings, as well as those apprehended after entering the country illegally.
The incoming Democratic chairs of the House Judiciary Committee and House Homeland Security Committee told Nielsen they would be conducting further oversight when they take over the committees.
On Monday, Fox News host Tucker Carlson defended his comments in Week 109, tweeting, "We spend a lot of time talking about the threat to free speech." That day, three more sponsors dropped.
Carlson doubled down on his show Monday, saying migrants make our country "poorer and dirtier." As of Tuesday evening, more than 15 sponsors had dropped from the show.
On Wednesday, Carlson's show cut to fewer commercial breaks, as advertisers continued to flee. Contributor Alan Dershowitz appeared saying he felt "compelled" to say that he disagreed with Carlson's comments.
On Tuesday, a panel of judges in the 10th Circuit dismissed 83 ethics complaints against Brett Kavanaugh, citing he is no longer covered by the judiciary's disciplinary process since he is on the Supreme Court.
Chief justice of the 10th district Timothy Tymkovich refused to recuse himself despite claims that Kavanaugh advocated to get him his position. Tymkovich was on Trump's short-list of candidates for the Supreme Court.
On Wednesday, a federal judge again ruled against the Trump regime, blocking its new policy that bars asylum for those who cross into the country without authorization.
On Monday, a pair of comprehensive reports made public by the Senate Intelligence Committee revealed Russian teams using social media platforms to influence the 2016 election, and cited efforts are ongoing.
The Russian influence campaign in 2016 was run by Internet Research Agency (IRA). The reports cite an extraordinary effort to target African-Americans on social media in an effort to suppress Democratic voters.
The reports indicated Instagram, owned by Facebook, generated responses on a scale beyond any of the others — with 187 million comments, likes, and other user reactions, more than Twitter and Facebook combined.
The reports also cited that "pro-Bernie Sanders and Jill Stein content" were among the IRA's go-to themes across other platforms. Throughout her campaign, Stein had called for a conciliatory approach with Russia.
The reports also cited after Trump took office, Russian operatives targeted Robert Mueller, appointed in May 2017, seeking to neutralize what they saw as the biggest threat to Trump remaining in office.
The NAACP called for a week-long boycott of Facebook, saying its business practices and spreading of "disingenuous portrayals of the African American community" should prompt further congressional investigation.
The WAPO Editorial Board noted from the reports' findings, "the Russia operation is staggering in its scale, precision and deceptiveness," saying Russia's support for Trump's election is "no longer disputable."
On Tuesday, NYT reported according to Facebook internal documents, as the company raised a privacy wall, it also gave some of the world's largest technology companies more intrusive access to users' personal data.
Personal data has become a prized commodity. Facebook allowed Microsoft's Bing search engine to see the users' friends without consent, and gave Netflix and Spotify the ability to read users' private messages.
On Wednesday, the attorney general for the District of Columbia sued Facebook for allowing Cambridge Analytica to gain access to tens of millions users' information without their permission.
On Friday, Director of National Intelligence Dan Coats delivered a report, which details Russian internet propagandists tried to influence American voters ahead of the 2018 midterms, to the White House.
Coats said that "Russia, and other foreign countries, including China and Iran, conducted influence activities and messaging campaigns" to further their strategic interests here. The report is not yet publicly available.
On Monday, Roger Stone settled a defamation suit brought against him by an exiled Chinese businessman seeking $100 million, admitting to publishing false and misleading statements on InfoWars.
In lieu of money, the agreement requires Stone to run ads in national newspapers, including WSJ, apologizing and admitting he lied, as well as publishing a retraction of the false statements on social media.
On Monday, two former business associates of Michael Flynn, Bijan Rafiekian (aka Bijan Kian) and Kamil Alptekin, were charged in a Virginia court with trying to influence U.S. politicians to extradite a Turkish cleric.
In court papers, Flynn is referred to as "Person A," although he is not charged in the case, and is instead cooperating with Mueller's team.
Kian and Alptekin, who lied about the involvement of Turkish government officials in the project, are charged with conspiracy and acting as agents of a foreign government; Alptekin is also accused of making false statements.
Kian, a former official for Trump's transition team, made a brief appearance in Virginia federal court. Alptekin, a dual Turkish-Dutch citizen living in Istanbul, remains at large.
On Monday, Mueller's office released notes of Flynn's interview with FBI agents on January 24, 2017, ahead of his sentencing Tuesday in connection with his guilty plea.
The notes show Flynn made false statements about his communications with Russian ambassador Sergey Kislyak during the transition, and also lied about his ties to Turkey.
On Monday, the GOP led House Intelligence Committee again interviewed James Comey behind closed doors. Transcripts of the interview revealed Comey was asked to defend the FBI's interview of Michael Flynn.
After, Comey told reporters, "People who know better, including Republican members of this body, have to have the courage to stand up and speak the truth, not be cowed" adding "their silence is shameful."
On Tuesday, press secretary Sarah Sanders criticized Comey and the FBI, telling reporters at the White House briefing, "the FBI broke standard protocol in the way that they came in and ambushed Gen. Flynn"
On Tuesday, Trump tweeted to Flynn in the morning, "Good luck today in court to General Michael Flynn," citing "tremendous pressure being put on him," and adding of the campaign, "There was no Collusion!"
On Tuesday, at an extraordinary sentencing hearing, Judge Emmet Sullivan made clear he was infuriated by Flynn's conduct, including the suggestion by Flynn and his supporters that he had been duped by the FBI.
Sullivan forced Flynn to admit publicly he knew he was lying to the FBI about conversations related to Russian sanctions, and berated the three-star general for his misdeeds, saying "arguably, you sold your country out."
Also citing Flynn's clandestine work for the Turkish government, Sullivan asked a prosecutor with the special counsel's office whether Flynn could be charged with "treason," adding, "I'm not hiding my disgust, my disdain."
Later, Sullivan walked back his treason questions, saying "I'm not suggesting" Flynn committed treason, adding "I was just trying to determine the benefit and the generosity of the government."
Mueller's team said Flynn has "provided substantial assistance to the attorneys in the Eastern District of Virginia in obtaining that charging document," relating to charges against Kian and Alptekin.
Mueller's team moved to sentence Flynn now because "the vast majority" of his cooperation was complete. Sullivan postponed sentencing for Flynn for 90 days. Flynn left the courtroom to chants of "lock him up!"
On Sunday, Trump attorney Rudy Giuliani told CNN that a letter of intent for Trump Tower Moscow had not been signed: "It was a real estate project. There was a letter of intent to go forward, but no one signed it."
On Tuesday, CNN obtained a signed copy of the letter of intent dated October 28, 2015 bearing Trump's signature. The letter opened negotiations for Trump condominiums, a hotel and commercial property.
On Wednesday, when asked about the signed copy, Giuliani changed his story, telling CNN, "I was wrong if I said it. I haven't seen the quote, but I probably meant to say there was never a deal much less a signed one."
On Tuesday, the New York attorney general's office announced the Trump Foundation has agreed to dissolve, following a court decision last month to allow the AG's lawsuit to move forward.
Attorney General Barbara Underwood accused the foundation of "a shocking pattern of illegality," and saying it functioned "as little more than a checkbook to serve Mr. Trump's business and political interests."
Allen Weisselberg told state investigators of the foundation's policies, "There's no policy, just so you understand." Underwood said the foundation's remaining $1.75 million will be distributed to other charities.
On Wednesday, Trump complained about his foundation being dissolved in three tweets, saying he is getting "slammed by (Gov. Andrew) Cuomo and the Dems" and that he would "never be treated fairly by these people."
Trump also attacked the former attorney general "sleazebag AG Eric Schneiderman," saying he was " head of New Yorkers for Clinton," and claimed "the Trump Foundation has done great work."
A federal judge ruled in favor of BuzzFeed in a lawsuit brought by businessman Aleksej Gubarev, based in Cyprus, who said he and his companies were falsely linked in the Steele dossier to Russia hacking.
Judge Ursula Ungaro ruled that BuzzFeed cannot be found liable for publishing a document that had become the subject of official government conduct, adding BuzzFeed's article was "fair and true."
On Wednesday, Oleg Deripaska agreed to cut his stake in Russian steel giant Rusal to below 50% in exchange for the Treasury Department lifting sanctions — a move expected to be closely monitored by the Kremlin.
On Wednesday, the Center for Responsive Politics reported Trump's 2020 campaign routed money through a secret LLC, used as a shell company to illegally coordinate ad buys with the National Rifle Association.
Trump's 2020 campaign continued to use the same individuals working for the firms as and make payments through Harris Sikes Media LLC, also at the center of the 2016 campaign's illegal coordination with the NRA.
National Media, Red Eagle Media Group, and American Media & Advocacy Group — which share staff, resources, and adjacent storefronts in Alexandria, Virginia — are also facing allegations of illegal coordination.
A Trump super PAC, Rebuilding America Now, which in Week 109 was being scrutinized in the Mueller probe, is also alleged to have routed payments through National Media's affiliates in a campaign coordination scheme.
On Thursday, BuzzFeed reported Russian agents sought sensitive financial information on its enemies through the U.S. Treasury, including backers of Hillary Clinton weeks before the June 9, 2016 Trump Tower meeting.
Officials at the Financial Crimes Enforcement Network (FinCEN) said they reported the use of the back channel to Treasury's counterterrorism unit and security office, and requested an investigation.
FinCEN officials believed the Russian agency making the requests was Rosfinmonitoring, set up by Putin in 2001 and closely tied to Russia's espionage apparatus. The group started cultivating civil servants in 2015.
On Wednesday, there was a docket entry at the U.S. District Court in Manhattan, which was sealed from public view and place in a vault, and was related to a criminal case against Michael Cohen.
On Wednesday, WSJ reported testimony by Trump in 2000 as part of a regulatory investigation and in 1988 for a government-integrity commission revealed he has a deep understanding of campaign-finance laws.
Giuliani has argued that Trump has limited understanding of campaign-finance laws. Experts say his deep understanding could be critical if investigators ever pursue a case over directing hush money payments.
On Wednesday, WAPO reported Mueller asked the House Intelligence Committee last Friday for an official transcript of Roger Stone's testimony, a sign prosecutors could be moving to charge him with a crime.
This marks the first formal request by Mueller's team to the committee. Stone denied lying to Congress, telling WAPO, no "reasonable attorney who looks at it would conclude that I committed perjury."
The special counsel has had an unofficial copy of Stone's testimony from September 2017 for weeks. Experts say prosecutors cannot bring charges without an original, certified copy of the transcript.
On Wednesday, WSJ reported that William Barr, Trump's nominee for attorney general, sent an unsolicited 20-page document to the DOJ criticizing aspects of the Mueller probe.
The documents excoriated Mueller's inquiry into obstruction of justice by Trump, saying it is based on a "fatally misconceived" theory that would cause lasting damage to the presidency and the executive branch.
On Thursday, CNN reported acting Attorney General Matt Whitaker consulted with ethics officials at the DOJ, and has been advised that he does not need to recuse himself from the Mueller probe.
A source said Whitaker has been in ongoing discussions since early November after his appointment. Deputy Attorney General Rod Rosenstein is still managing the Mueller probe on a day-to-day basis.
Hours later, the official who had said ethics officials had advised Whitaker did not need to recuse himself retracted that description of events.
WAPO reported a senior DOJ ethics official concluded Whitaker should recuse himself from overseeing the Mueller probe. Whitaker never asked DOJ ethics officials for a formal recommendation, nor did he receive one.
Instead, days after being appointed, Whitaker tapped a veteran U.S. attorney to become part of a four-person team of advisers on his new job, including giving guidance on recusal from the Mueller probe.
Whitaker met repeatedly with DOJ ethics officials to discuss the facts and the issues. A senior ethics official told Whitaker's advisers on Tuesday that it was a "close call" but that Whitaker should recuse himself.
Whitaker's advisers disagreed, recommending to Whitaker on Wednesday not to recuse, saying there was no precedent. Whitaker ignored the ethic official's advice, and had it not been leaked, it would not be public.
On Friday, CNN reported Trump has lashed out at Whitaker at least twice in the past few weeks, angered that federal prosecutors referenced him in Michael Cohen's crimes, starting just weeks into Whitaker taking the job.
The first instance happened when Cohen pleaded guilty to lying to Congress about a proposed Trump Tower project in Moscow, and second when Cohen implicated Trump in the hush-money scheme.
Trump did not ask Whitaker to stop the investigations, but vented at what he felt was an unfair situation. Sources say Trump believes the attorney general should serve as his personal protector, and settle his scores.
On Friday, NBC News reported Mueller is nearing the end of his team's investigation of Russian election interference, and is expected to submit a confidential report to the attorney general as early as mid-February.
On Monday, in an interview with MSNBC, Sen. Bob Corker would not say if Trump should be primaried, responding "What is happening right now is not the standard Republicanism that we've had in our country."
On Tuesday, Politico reported Trump is planning to launch an unprecedented structure for his 2020 reelection, streamlining the Republican National Committee and his campaign into a single entity.
Trump's reelection campaign and the RNC will merge their field and fundraising programs into a joint outfit, even sharing office space. Typically reelection campaigns work in tandem with the RNC.
On Wednesday, the Washington Examiner reported the South Carolina Republican Party could cancel its early 2020 primary, usually third in the presidential nominating calendar, in order to protect Trump.
On Wednesday, two more Kansas Republicans, state Sen. Dinah Sykes and Rep. Stephanie Clayton, switched parties to become Democrats.
On Monday, CNBC reported the stock market is on pace for its worst December since the Great Depression, with the Dow Jones Industrial Average and S&P 500 down 7.6% and 7.8%, respectively in December.
On Tuesday, Treasury Secretary Steven Mnuchin downplayed Trump's promise of a middle class tax cut ahead of the midterms, telling Bloomberg "I'm not going to comment on whether it is a real thing or not a real thing."
On Tuesday, a federal commission led by Education Secretary Betsy DeVos recommended rescinding Obama-era guidance meant to help reduce the racial disparity in school discipline.
The commission claimed the guidance made schools reluctant to address unruly students or violent incidents, and recommended "partnering with local law enforcement in the training and arming of school personnel."
According to a report by the Government Accountability Office, the Veterans Affairs Department has spent just $57,000 of the $6.2 million available for suicide prevention outreach in the fiscal year 2018 budget.
The report also stated that the VA had identified suicide prevention as its highest clinical priority in 2018: an average of 20 veterans die by suicide per day.
According to a report from the Center for Public Integrity, Commerce Secretary Wilbur Ross failed to sell $15,000 in bank shares until October 2018, after signing ethics documents saying he sold the shares in 2017.
CNBC reported Robert and Rebekah Mercer have disappeared from the political donor scene this election and donated less in 2018, after their involvement with Trump had cast them into the public spotlight.
The Palm Beach Post reported after a five-year legal battle over the taxable value of Trump National Golf Club in Jupiter, Florida, Trump will be getting a $10.6 million tax refund for taxes he overpaid.
On Wednesday, Trump abruptly announced his decision to withdraw U.S. troops from Syria, reversing his position in September 2018, shocking people in the U.S. government and around the world.
WAPO reported Trump made the decision on Tuesday, after a small meeting attended only by senior White House aides and the secretaries of defense and state, most of whom, if not all, sharply disagreed with him.
Senior lawmakers from both parties were not informed in advance, nor were close U.S. allies who are members of the U.S.-led coalition against the Islamic State. Defense Secretary Mattis was informed Tuesday night.
Trump canceled a scheduled meeting with Senate Foreign Relations Committee chair Bob Corker in the afternoon, instead communicating via Twitter, sending a video of himself outside the Oval Office.
On Wednesday, TASS reported Russia praised Trump for the withdrawal. A Russian Foreign Ministry Spokesman called it a "milestone story which might evolve from this decision is a real prospect for a political solution."
AP reported Trump agreed to withdraw troops from Syria on a December 14 call with Turkish President Recep Tayyip Erdogan, the day after Secretary of State Mike Pompeo spoke with his Turkish counterpart.
Pompeo was notified of Erdogan's threat to launch a military operation against U.S.-backed Kurdish rebels in northeast Syria, where American forces are based. He then set up the call between the two leaders.
Pompeo, Mattis, and others on the national security team prepared a list of talking points for Trump to use in his phone call, in order to tell Erdogan to back off; but instead Trump ignored the script and sided with Erdogan.
National security advisor John Bolton stressed on the call that victory over the Islamic State had to be enduring, but Trump was not dissuaded, and quickly capitulated by pledging to withdraw, shocking both Bolton and Erdogan.
Erdogan on the call cautioned Trump over a hasty withdrawal. Over the weekend, the national security team raced to come up with a plan that would reverse, delay, or somehow limit effects of the withdrawal.
In addition, officials urged Trump to at least delay the decision to withdraw, in order to give the military and Kurdish forces time to prepare. Trump was unmoved.
On Thursday, Trump attacked an ally for criticizing his plan, tweeting, "So hard to believe that Lindsey Graham would be against saving soldier lives & billions of $$$…Time to focus on our Country & bring our youth" home.
On Thursday, WSJ reported Trump ordered the start of a reduction of American forces in Afghanistan. More than 7,000 troops will begin to return home in the coming weeks out of 14,000 troops stationed there.
The withdrawal coupled with more than 2,000 troops returning from Syria announced Wednesday, mark a dramatic shift in the U.S. approach to military engagement in the region.
On Thursday, according to commentary published by the state-run Korean Central News Agency, North Korea will not denuclearize until the U.S. completely eliminates "the American nuclear threat to North Korea."
On Thursday, just after 5 p.m., Trump tweeted "General Jim Mattis will be retiring, with distinction, at the end of February," adding, "A new Secretary of Defense will be named shortly. I greatly thank Jim for his service!"
NYT reported earlier in the day Mattis went to the White House with his resignation letter already written, but made one last attempt to persuade Trump to reverse his decision on pulling out 2,000 troops from Syria.
After Mattis was rebuffed by Trump, he returned to the Pentagon and asked aides to print out 50 copies of his resignation letter and distribute them around the building.
Mattis is the fourth member of Trump's cabinet to resign or be forced out since the midterm elections, and the third in the last two weeks.
With the resignations of John Kelly and Mattis, the last of Trump's old-guard national security team, policy will be left in the hands of Pompeo, the second Secretary of State, and Bolton, Trump's third NSA.
Also notably, with Mattis' resignation, what Trump once called the array of high-ranking military officers he appointed, "my generals" — including Michael Flynn, H.R. McMaster and John Kelly — are all gone.
Mattis's resignation letter was the sharpest, and most public rebuke from inside the regime over the Trump's foreign policy, including rejection of the alliances and partnerships, and tending towards authoritarianism.
In his letter, Mattis did not offer any praise of Trump, or thank him in any way; rather saying, "I very much appreciate this opportunity to serve the nation and our men and women in uniform."
Mattis wrote we must be "clear-eyed" about threats from groups such as Islamic State, saying, "We must do everything possible to advance an international order that is most conducive to our security, prosperity and values."
Mattis also wrote about democratic allies: "our strength as a nation is inextricably linked to the strength of our unique and comprehensive system of alliances and partnerships."
And warned we must be "resolute and unambiguous in our approach" to countries like China and Russia, who "want to shape a world consistent with their authoritarian model."
Mattis wrote, "Because you have the right to have a Secretary of Defense whose views are better aligned with yours on these and other subjects, I believe it is right for me to step down from my position."
Mattis' letter triggered a bipartisan chorus of concern, with Sen. Mark Warner saying "This is scary," Sen. Chris Murphy calling it a "national security crisis," and Sen. Ben Sasse saying it was "a sad day for America."
Sen. Marco Rubio tweeted the letter made it abundantly clear "we are headed towards a series of grave policy errors which will endanger our nation, damage our alliances & empower our adversaries."
Majority Leader Mitch McConnell, who rarely challenges Trump publicly, said in a statement: "We must also maintain a clear-eyed understanding of our friends and foes, and recognize that nations like Russia are among the latter."
McConnell also said of Trump's next Defense Secretary, "I urge him to select a leader who shares Secretary Mattis's understanding of these vital principles and his total commitment to America's servicemembers."
Mattis' departure also left the Pentagon in a state of despair, with one official describing the mood in the building as "eerie, and another official saying "the building is in shock."
On Sunday, White House senior adviser Stephen Miller told "Face the Nation" that Trump was "absolutely" willing to shut down the government if Congress does not authorize funding for his wall.
On Tuesday, in an abrupt shift, press secretary Sarah Sanders backed off from the threat, telling Fox News, "At the end of the day, we don't want to shut down the government, we want to shut down the border."
On Wednesday, the Senate approved a stopgap spending bill. Voting was pushed back to late in the day, and some senators sang Christmas carols in the chamber as they prepared to leave for the holiday break.
On Thursday, Trump again abruptly changed course, informing House Republican leaders he would not sign a short-term funding bill that does not include money for his wall. Some senators flew back to Washington.
Reportedly, Trump was rattled by accusations from conservatives like Rep. Mark Meadows, commentator Ann Coulter, and talk radio host Rush Limbaugh that he was caving on his promised border wall.
Shortly after, Trump tweeted a video clip of him singing in a duet of the theme song to "Green Acres" from the 2006 Emmy awards, saying "Farm Bill signing in 15 minutes! #Emmys #TBT."
On Friday, in a series of nine morning tweets, Trump warned, "Shutdown today if Democrats do not vote for Border Security!" encouraging Majority Leader Mitch McConnell to "use the Nuclear Option and get it done!"
Shortly after, several Republican senators, including Sens. Orrin Hatch and Lamar Alexander, said that they do not support doing away with the legislative filibuster, known as the Nuclear Option.
The Senate could not get the 60 votes needed to move the House bill forward. Republicans conceded that one of their biggest hurdles was Trump's unpredictability and proclivity for abruptly changing his mind.
On Friday, in an attempt to claim victory, Trump tweeted he would accept money for a "Steel Slat Barrier" with spikes on the top, which he said would be just as effective as a "wall" and "at the same time beautiful."
Trump also tweeted a photo from the Oval Office of him saying "some of the many Bills that I am signing in the Oval Office right now." Upon closer inspection, the piece of paper he is signing in the photo is blank.
On Friday evening, with Trump unwilling to drop his demand for $5 billion of funding for his wall, the House and Senate adjourned with no spending deal. The government partially shut down after midnight.
This marked the third shutdown of 2018, the first time in 40 years the government has been closed three times in a year.
Sen. Lindsey Graham, who this week had been the subject of Trump's Twitter ire, told Fox News of Democrats and the shutdown, "if he doesn't break 'em now, it's going to be a terrible 2019. So Mr. President, dig in."
A GoFundMe campaign started by Trump supporter Brian Kolfage, a disabled Florida veteran, raised $14 million from donors as of Saturday. The goal of the campaign is to raise $5 billion to fund the wall.
On Friday, the Supreme Court said Justice Ruth Bader Ginsburg had undergone surgery to remove two malignant growths in her left lung, discovered during tests after she fractured ribs on November 7.
On Friday, the Supreme Court upheld the block on Trump's asylum ban, with Chief Justice John Roberts siding with the four liberal justices. NBC News reported Justice Ginsburg voted from her hospital bed.
On Friday, the Dow Jones fell another 400 points, falling nearly 7% during the week – the worst week since the financial crisis in 2008. A Fed rate hike, trade tensions with China, and a government shutdown weighed in.
The stock market ended the final week of 2018 on the Dow Jones on brink of a bear market, and the NASDAQ down 22% from its highs. All stock market averages are now posting negative returns for 2018.
On Saturday, Bloomberg reported Trump has discussed firing Federal Reserve Chairman Jerome Powell, following this week's interest-rate hike. Trump also blames Powell for the stock market losses.
Advisers close to Trump are hoping his anger will dissipate, but reportedly he has repeatedly spoke of firing Powell in private conversations over the past few days.
The Federal Reserve Act states governors may be "removed for cause by the President," so it is unclear how much authority Trump would have for such an unprecedented challenge to the Fed's independence.
On Saturday, Brett McGurk, the U.S. envoy to the global coalition fighting the Islamic State group, resigned in protest of Trump's abrupt decision to withdraw from Syria. McGurk had served in the position since 2015.
On Saturday, Politico reported Trump is facing a dangerous erosion of support among Republicans, following recent moves like backing Saudis in the Khashoggi killing, and his abrupt decision to pull out of Syria.
Rank-and-file Republicans are also concerned that Trump is acting recklessly and hijacking the party, catering only to his base, and making moves like the government shutdown to please hard-liners.
On Saturday, Trump canceled his scheduled flight to Mar-a-Lago, but the Capitol was largely quiet, with no meetings among House and Senate leaders scheduled, and most lawmakers gone for the holidays.
GOP leaders are frustrated by how quickly things unraveled in the past 48 hours. There does not appear to be any deal in sight, or plans from leaders on how to move forward ahead of the holidays.
The Weekly List podcast is here! You can find more information here by clicking here.
THE LIST — weeks 1–52 of The Weekly List is out as a book! You can order your copy by clicking here.
Copyright Amy Siskind, December 22, 2018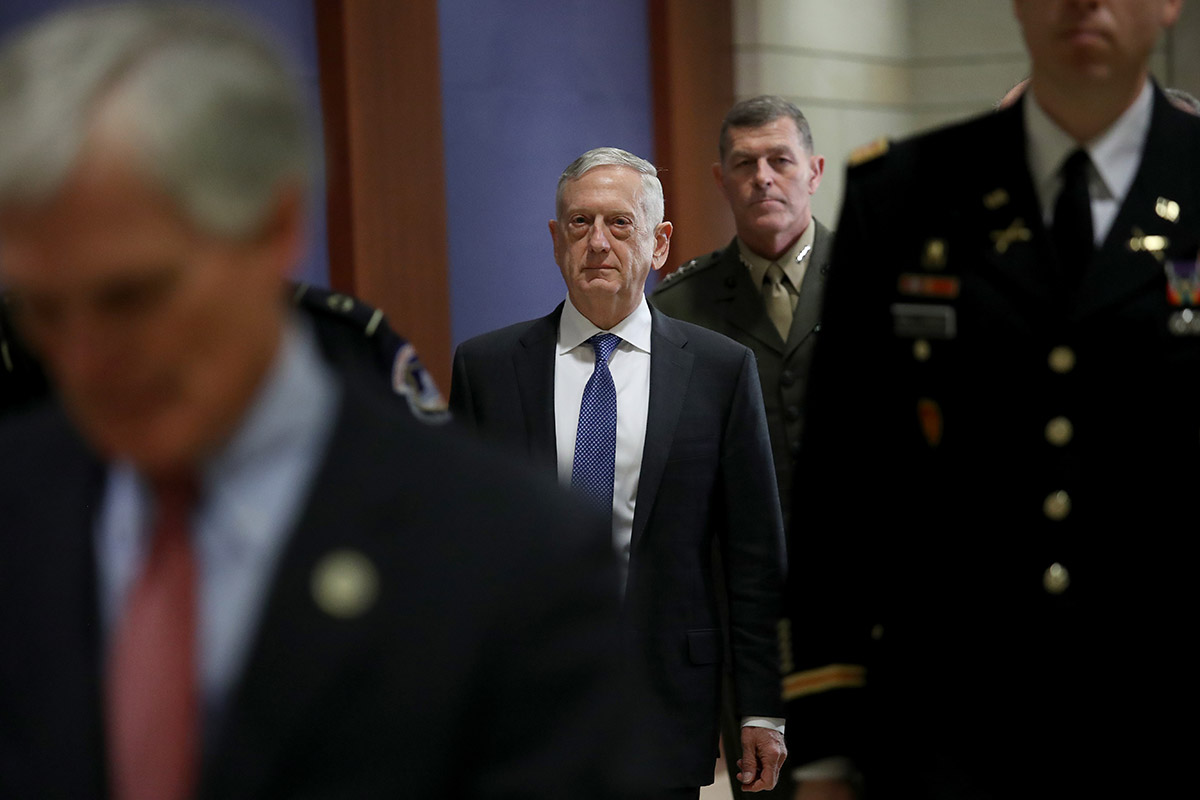 Secretary of Defense Jim Mattis arrives for a closed intelligence briefing at the U.S. Capitol with members of the House of Representatives December 13, 2018 in Washington, DC. Mattis and U.S. Secretary of State Mike Pompeo briefed House members on the death of Jamal Khashoggi. This week, Mattis resigned in a letter widely viewed as a sharp rebuke of Trump and his foreign policy.